When you heard a lot regarding street foods in Penang, but wonder have limited time to explore all if it, or wonder how to plan it out? Perhaps you may have a thought before to have food tour in Penang in limited time and how to get your tummy to indulge all kinds of flavourful food. Being ranked by various website and magazine as top spot for food hunting such as Lonely Planet, CNN and The Culture Trip. Here's a 12-hour guide for your food guide reference mainly around Penang island.
Let's begin and spice up our food tour as early as 8am. If you wonder the time are early and still want to roll on the warm bed, your jaw may drop when you look at the crowd start building up along the Transfer Road Penang. Famous for its Roti Canai (flat bread dish cook on the flat iron skillet, served with selection of curry) and Roti Bakar (toast bread serving with either butter spread as filling or top with half boiled egg), the streets comes with many stalls selling the similar items but the response always overwhelming especially during public holiday and weekend. Therefore, finding a seat could be a challenge here. If you love spicy, I recommend to go for Roti Canai Banjir, Banjir is Malay word mean flooded. Yes, the server will tear the dish into pieces then top up with great portion curry that give you great filling.
Transfer Road Roti Canai
Jalan Transfer, Georgetown, 10050 George Town
Time: 8am – 12pm
Then we proceed to one of the Chinese street food, Hokkien Mee, a combination of yellow and rice  noodles in either prawn or pork broth with different condiments like prawn, slices of pork, fish cakes, spinach and homemade chili paste (Sambal). Bridge Street Hokkien Mee located on C.Y. Choy Road (entrance into Beach Street) has been operate for years and they even do not hesitate to show the dish has been featured in the CNNgo Website.
Hokkien Mee at C.Y.Choy Road
533 Lebuh Pantai, George Town
Time: 6.30am – 2.30pm (Close on Monday)
By the time reaching 11am, we can proceed to Genting Food Court in Greenlane. One of food court I recommend in Penang island for food tour. You can try various type of hawker foods here but my hand pick would be Chee Cheong Fun. Unlike like other places like Hong Kong or even southern part of Malaysia, this streamed rice noodle roll in Penang topped with shrimp paste, sweet sauce, soy souce, sesame seed and chili paste. Other dish I can recommend are Wan Tan Mee (Dumpling noodle) and Tai Lok Mee (Stir Fried Thick Noodle with black soy sauce).
Genting Cafe
Lorong Delima 3, Taman Island Glades, 11700 Jelutong.
Time: 7am – 5pm (Close on Wednesday)
You could aware that different version of stir-fried noodle from Chinese, now we go for Mamak (Malaysians of Tamil Muslim origin) style. This Malaysian Indian Cuisine is stir fried yellow noodles on the wok through the use of spices, tomato sauce, potatoes, bean curd, mix with sweet & chili sauce. Although the uncle is Indian Muslim, he could speak Chinese dialect Hokkien as well.
Bangkok's Lane Mee Goreng
280, Jalan Burma, 10350 George Town.
Time: 8.30am – 6.30pm (Close on Monday)
Probably around 2-3pm and we travel to George Town for further exploration. While you are walking under the hot sun and need something to chill down. Try the local drink, Ais Tingkap which you wouldn't find at any other place! Selling since year 1928 and now under 3rd generation, the refreshing beverage containing basil seeds, coconut water & flesh, rose syrup, and shaved ice that become popular drink and sure can help to bring down the heat in the afternoon. Do try the snacks such as Cucur Udang (prawn fritters) and fried bean curd as well, while you take the opportunity to walk around the Chowrasta market, consider one of the oldest market in George Town, Penang since late 19th century.
Ais Tingkap
2, Lebuh Tamil 10100 George Town.
Time: 11.30am – 8pm
Within short walking distance, there is another famous dessert stall called Penang Road Famous Teochew Chendol, yes, the stall famous for its dessert in most of the reviews say so. Chendol is a shaved ice dessert with fresh Pandan (screwpine) flavoured flour noodles immersed in light coconut milk then top by sweeten Gula Melaka (brown sugar) and kidney beans. Operating since 1936 from a humble pushcart developing until today with various outlet in shopping mall is several states of Malaysia but still maintain the stall selling at the roadside while customers can choose either enjoying bowl of dessert at the road side under the hot sun, or dine in at the coffee stall that come with either open air atmosphere or air condition environment. Do take the opportunity to try the Asam Laksa (listed at number 26th on World's 50 most delicious foods compiled by CNN Go in 2011) and Rojak (sliced fresh fruits mixed with fermented shrimp paste sprinkled with roasted peanuts) as well.
Penang Road Famous Teochew Chendol
4-2, Lebuh Keng Kwee 10100 George Town.
Time: 10.30am – 7pm
At around evening time 5pm, we proceed to the clan jetties. Claimed as one of the old Chinese settlements on the island. This waterfront society built the house on stilts divide into various Chinese clans. Opposite the Tan Jetty, there is a stall selling dessert called Ai Yu Bing that you shouldn't miss. A type of the sweeten jelly add on shaved ice and slice of lemon that could freshen up yourself.
Oh Kio Dessert
56A, Pengkalan Weld 10300 George Town.
Time: 12.30am – 7.30pm
Well, we end our food tour with one more must try dish in Penang, Char Koay Teow. Yes, you can't complete the food tour without having the Penang signature dish (or even one of the national dish). A stir fried flat rice noodles in soy sauce mixed with several important ingredients like prawn, cockles, bean sprout, egg, Chinese sausages and the local chili paste (we called Sambal). Ranked as top 50 World Street Food, this beloved food is much sought after by both locals and tourist.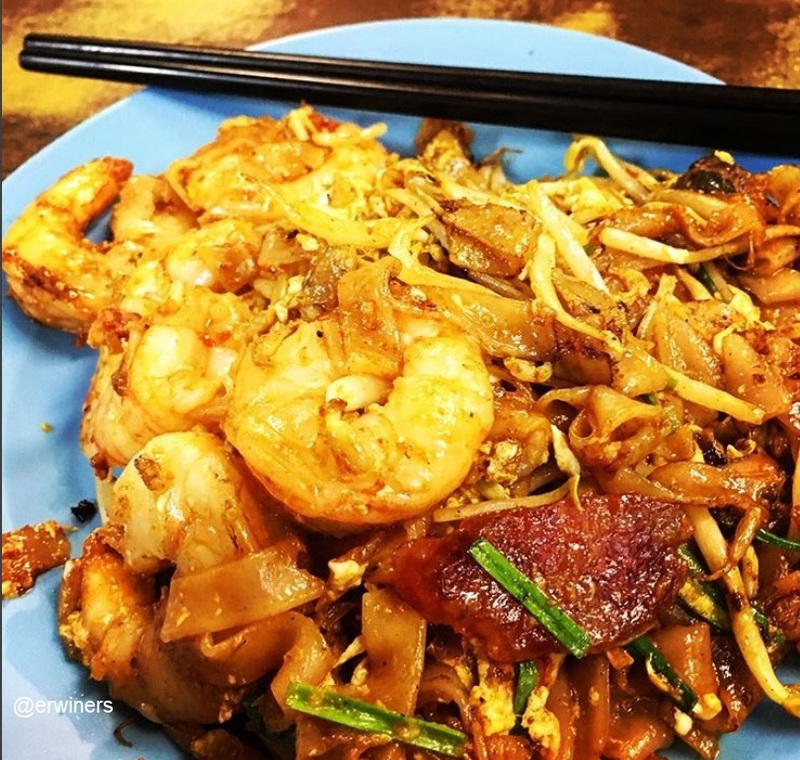 Bee Hooi Coffee Shop
415, Jalan Burma, Pulau Tikus 10350 George Town.
Time: 8am – 11.30pm (Close on Tuesday)
The above itinerary just for your reference while in Penang has more than that to offer if you love for food hunting. KIKIA provide online booking for private tour guiding service, charter car to make you travel with easy and fruitful.  To know more about the Penang tour package offer, Dave private tour has the big  tummy and willing to bring you around and stimulate your taste bud!