Chinese New Year is approaching, Penang having the most Chinese populated state compare to others in Malaysia, the Chinese New Year celebration in Penang carry out different atmosphere. One of the highlight during the period is Kek Lok Si Temple Display of Light which draw large number of crowds to visit the state iconic attraction. This year, the light display will held more than 30 days start from 19 January until 21 February. The temple will open from morning until late at night with thousands of LED lights turn on from evening and the whole temple turn into sea of light and twinkles out of the darkness! Other than LED lightings as main decorations, the complex also hang up thousands of lanterns that donated by devotees who seek for good blessing.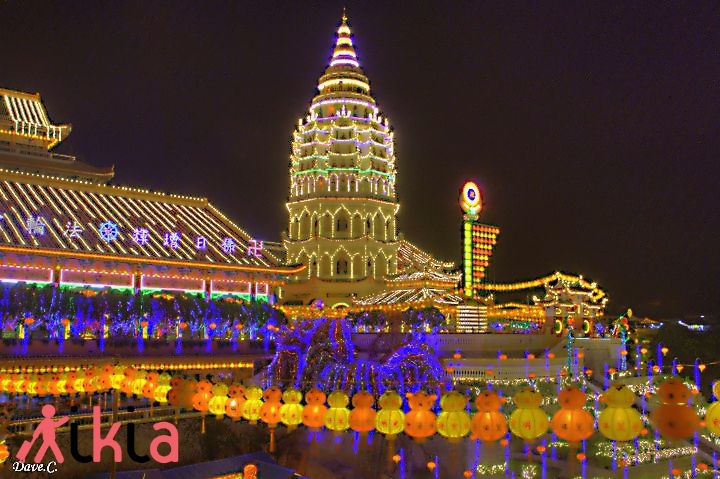 Kek Lok Si in Air Itam, one of the largest Buddhist temple complexes in South East Asia and Penang's best known, attracts thousands of pilgrims and tourists alike to see its abundance of magnificent images of Buddha, carvings, sculptures and murals ornamenting the temple halls, pagodas and archways, and to admire the 120 feet tall bronze statue of Kuan Yin, the Goddess of Mercy.
Kek Lok Si direct translate meaning are "Heavenly Temple" or most common also known as Temple of Supreme Bliss. This temple inspired by Venerable Beow Lean, who also chief monk of Goddess of Mercy Temple at Pitt Street. Initially arrived Penang in late 19th century with intention to raise find for a monastery in Fuzhou, however, 2 years later he ended up become chief monk in Goddess of Mercy temple by its trustee. Due to the overwhelmed response within the local Chinese migrate towards the temple, eventually he founded a place in the hills of Ayer Itam called Crane Mountain which consider is a good place to set up a temple. It was established as a branch of the Buddhist Vatican in Guishan Foochow in Fujian province.
Construction started in year 1891 and completed in year 1905 with total area of 4 hectare. The project also received the sanction of the Manchu Emperor Guangxu (11th emperor from Qing Dynasty) who bestowed a tablet (大雄宝殿) and gift of 70,000 volumes of the Imperial Edition of the Buddhist Sutras. Besides, Empress Cixi also sent some scriptures of her own.
The initial establishment of the temple without the iconic pagoda, it was built and completed in about 35 years later with total 7 levels high, also called Pagoda of 10,000 Buddha. The unusual pagoda combines a Chinese octagonal base with a middle tier of Thai design, and a Burmese crown (spiral dome), effectively fusing Mahayana and Theravada Buddhism symbols into one structure. Represents syncretism of the ethnic and religious diversity in the country. Later this has become an icon of Penang to attract the visitors who ever come to Penang and visit Kek Lok Si for day tour.
Another main feature when you visit this temple is non-other than the statue of Kuan Yin (Goddess of Mercy). However, the status than you seen today during the tour is not the first status built. The first statue built in year of 1977 in white plaster was damaged due to natural call and fire happened in year 1993. This bronze statue was completed in year 2002 at 30.2 meters high which is the tallest Guan Yin statue in the world. Later, the pavilion built and completed in 2009 with total height of 82.7 meters. The roof is a three-tier pagoda supported by 16 granite pillars embellished with ornate carvings at the cost of around RM40 million.
To visit this temple during Chinese New Year, I would strongly recommend to visit at around 5pm and left the place around 7-8pm. So you would able to witness the scene in day and night time.  We provide online booking for private tour guiding service, charter car to make you travel with easy and avoid traffic hassle.  Do visit our website to know more about the package offer and I am more than happy to bring you around and share with you whatever I know!